Is it strange to be looking ahead when I have two sweaters in the super-active queue already?
The hot pink sweater came off the needles and went straight to the blocking boards Tuesday night which meant that a navy sweater got cast-on Wednesday evening.
I have vowed to get some WIPs taken care of in the new year. I start way too many sweater and then just abandon them. There's really no rhyme or reason to how this happens: both fingering and aran sweaters, both cardigans and pullovers, both plain and advanced, there's no rhyme or reason as to why one sweater gets started and finished almost without break and others spend years in the WIP pile.
My
Fisher Queen
WIP is in the lovely madelinetosh erin (which I hoard as a rule) in thoreau
and it is going to look excellent with my J. Crew cream colored wool mini skirt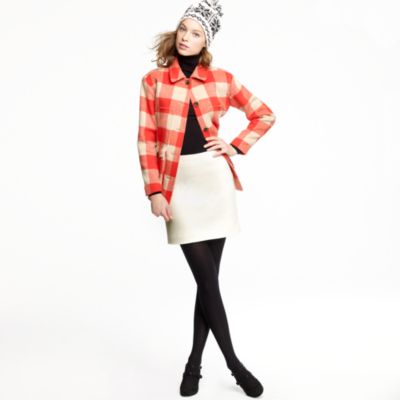 and it's early to the waist of the body AND on super big needles! I have no excuse not to power through it.
Or how about the ubiquitous (in my social knitting circle)
Grace
? It's in one of my favorite colors, madelinetosh's brothers grimm (whose discontinuation god himself can't explain), will perfectly match one of my fave summer dresses from Anthropologie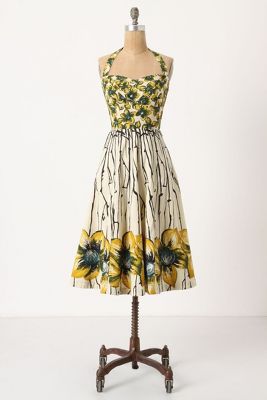 and be amazing with nearly everything else I own (ok so I own several dresses from Anthro that will go well with a cardigan)
AND I solved my problem with the cardigan which is that I didn't like the plain shoulders next to the lace rest of it so mine has lace all over the yoke. It is also finished to around my waist.
There is no reason, I repeat no reason, why I don't have a finished
Cocktail(Dress)
. I am making it in the phenomenally amazing Duck Duck Wool Singleton in metalware and this photograph DOES NOT DO THE YARN JUSTICE
because the yarn legit glows. To prevent attention from being drawn away from this awesomeness, I've used madelinetosh merino light in onyx and dirty panther, aka black and as dark as grey can be without being black, as the contrast colors. It's so friggin' cool. To say nothing of the fact that this is a wheelhouse dress like no other - I own at least 1 million pairs of shoes that would go with this (1 million might be a slight exaggeration, but I do own quite a number of shoes I can wear with this dress). Including, should they go on super duper extra holycrap sale, these eminently covetable (and seriously unaffordable) Gucci booties which, I assure you, look ridonkulous on.
On another tangent, do you ever find that while you love a designer, you haven't actually managed to knit any of her (or his) patterns? This is my monumental problem with
Julia Trice
(aka mindofwinter). I have stashed for her patterns, swatched for her patterns, and the closest I've come to knitting any of her patterns is the 3/4 of the yoke of
Yukiya Pullover
that sits in a pile with the other accusatory WIPs. And again, I couldn't be more fond of my yarn choices: I'm using various Buggas in grey, black, and red - so again, just my kinda thing. I think I'll don a cheapo black tank dress from H&M or Forever 21
(this is among the
best 7-13 bucks you can spend
- I own gobs of these cheap, disposable dresses which are totally camouflaged by a blazer and completely wonderful on the kinds of vacations I take - size up, this stuff is made for tweens - in fact, I took a break from writing this to purchase 5 more), and wear booties or knee-high boots.
I wasn't going to admit to all the WIPs I want to get through in 2015, but I think it will keep me honest, so here goes. I've had
Cromarty
on the needles since 2012 and despite the fact that I'm making it in a decidedly purple yarn,
no longer have the black pants it would go with (they were from Uniqlo and died a sad, though not wholly unexpected, death-by-hole), and really don't know when I will ever wear it, I feel compelled to finish it. This, realistically, might not get done in 2015.
The same cannot be said for
Birchbark
which I would happily have worn today with my flippy bcbgeneration skirt
and my riding boots
and which is going to make me so happy in this wonderful Polo & Co. neutral,
so why is it not already mine?!? I would also wear it with the jeans I need to buy from Old Navy
now that I know the secret to Old Navy jeans is to bring 10 pair of the same size into the dressing room and buy the one that actually fits because their quality control is shite.
And finally, 2015 will be a WIP success if
Northdale
becomes reality. I have a couple of inches knit and it's so much fun, but also tedious, time consuming, and not something I can do mindlessly. I also don't know what I'll wear it with, though guessing a navy skirt isn't the most ridiculous guess one could have.
I'd also like to say that there won't be a Part 3 of this series, but there will be, because we haven't tackled things I want for 2015 that I have managed not to cast on and abandon - and believe me, I have a list for that too.