Oh god, is it really September?
Last Friday, I was in Maine enjoying the fresh air and taking on way too long of a bike ride for a person who hadn't really ridden a bike in 20 years, and that's why there was no Follow Friday last week. But fear not, I bought yarn in Maine. A shout-out (and admonition) to the lovely store
KnitWit
in Portland. I've shopped at you joyously on several occasions, but I always forget that you kinda seem to hate knitters with jobs. This problem is, by no means, limited to KnitWit, or to yarn shops. I am equally peeved at nail salons, leg waxing joints, and the Greenwich Town offices, but people, the kind of people who can dump over $100 on yarn, WORK FROM 9-5! If your store with this schedule: Tuesday-Wednesday 10:00 - 5:00, Thursday 10:00 - 6:00, Friday-Saturday 10:00 - 5:00, and closed Sunday and Monday, it's going to be really difficult for working to people to shop at you. We spent Thursday at Old Orchard Beach which I describe as "Coney Island without the mafia and heroin," and I had really wanted to swing by KnitWit prior to meeting Ridgely of AstralBath Yarns and her partner, Scott, for dinner. Then I looked at the KnitWit website and looked at the clock, which read 5:00. Old Orchard Beach is less than 30 minutes from Portland, but we weren't really ready to immediately jump up, gather our things, run to the car, pack it, and jet to Old Port so that I could show up 10 minutes before closing time and rushbrowse. I might have been able to convince my husband to stop there on the drive home, but the drive home was Monday which, in addition to being Labor Day, is a day KnitWit is never open. And KnitWit, truly, I'm sorry to pick on you, I was just bummed I didn't get to drop mad bucks on Quince & Co. yarns! So please, local yarn stores who frequently complain that we knitters shop online, remember that we shop online because it's convenient. I am NEVER available between 10 and 6 on a weekday because I am either actively at my job (where I earn the money I use to buy yarn or actively commuting from my job. Furthermore, since I am at my job during the week, it would be super awesome if your stores were open ALL DAY EACH DAY OF THE WEEKEND. Ok, rant over, KnitWit, you are a super awesome store with many super covetable buyable items, I just am peeved I didn't get the chance to pet and purchase any of them.
A hearty thanks to Heidi of
Swans Island
for being "in the office" at 3ish pm on a holiday weekend Saturday so that I could screech at my husband to "TURN THE CAR AROUND" on route 1 and pet the delectable yarns in person PLUS thanks for finding me a sweater quantity of your new yarn that didn't quite make the showroom floor so that I could have it at a discount (unasked for!!!).
But we were talking Follow Friday. I finally, this morning, made a twitter account so now I can hashtag the heck out of things like #followfriday or #ff or #throwbackthursay or #tacotuesday or whatever the kids are doing, so I feel a little more authentic about my Follow Friday entries. This week I want to talk about yarn, specifically the yarn I used to make The Emily. I really have no idea how I found Lakes Yarn and Fiber, I only know that when I did I knew immediately that Ami's colorway, Mustache Man, was destined to be the color for The Emily. I mean can you blame me? It's gorgeous! Not only is it gorgeous it is the perfect color for Emily herself!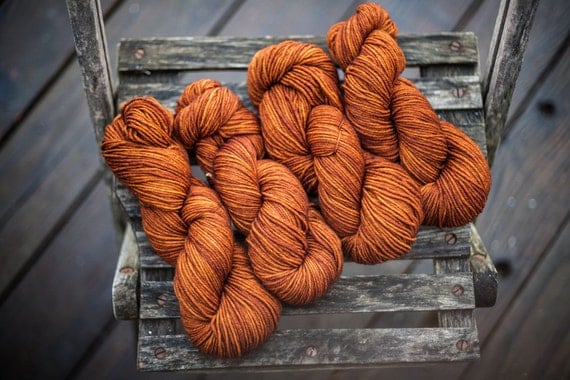 And if you think this is the only color of Ami's that glows like this, I urge you (ok, no, wait if I urge you to stalk yarn I want to stalk and buy perhaps I won't get the yarn, but I want you to know how good it is, but I want it all for myself, arghhhh!) to check out her colorways
peony
,
darkwash
, and
cloak
(wait, not cloak, cloak is mine, go back and look at the peony which, while gorgeous, isn't a color for me). I don't know anything about dyeing, but I know that Ami's yarns look different - they glow and I like the glow. Her
etsy store
doesn't have a regular update schedule, but when they do come up, boy are they ever worth it. Her blog shows what she's working on and what life is like in her home state of Idaho, and the tourist board should hire her because she makes quite an argument for the natural beauty to be found there. I'm a definite fan and I can't wait to see what she comes up with next!